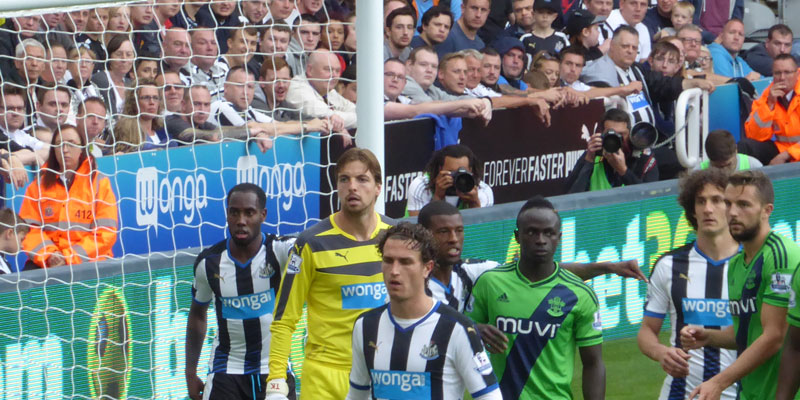 North East football is unquestionably in turmoil at the moment. Sunderland are propping up the rest of the table with Newcastle United lying in 19th place having only gained two points from a possible 18. But how are the Magpies in this predicament?
Towards the end of Alan Pardew's era, and throughout the majority of John Carver's stint as interim manager, the animosity of the fans was towards the owner of the club, Mike Ashley. The Toon Army accused Ashley of not spending enough money to progress the team's fortunes, of not speaking publicly and the club generally not communicating well with their fanbase. Fans had also turned on the manager, with Pardew and Carver receiving backlash over their selection choices and strategies.
In the last year of Pardew's reign, and under Carver, Newcastle played quite possibly their worst football in their Premier League history. Play was tepid at best, the defence was leaky, the midfield wasn't scoring or creating, the wingplay was lacklustre and the centre forwards were unable to put the goal in the back of the net.
So this summer it all looked like it had changed. On Newcastle's final game of the 2014/2015 season against West Ham, Mike Ashley gave his first interview live on air. He stated that Newcastle would spend, they would start to take the FA and League Cups seriously and that he would not end his stewardship until the club won silverware.
Newcastle got rid of their interim head coach and the entire backroom team. In came McClaren, fresh from having narrowly missed out on a Premier League promotion place with Derby County. In came Paul Simpson as his number two, Ian Cathro joined as assistant, Steve Black as motivational coach and consultant, and Simon Smith replaced Andy Woodman as goalkeeping coach. A considerable shake up.
"After a season under messrs Pardew and Carver, an experienced manager like McClaren seemed to make sense"
Fans were excited. After a season under messrs Pardew and Carver, an experienced manager like McClaren seemed to make sense. Paul Simpson had worked with McClaren at Derby and Ian Cathro came from Valencia with an impeccable reputation as one of the finest young coaches in the sport. McClaren promised a return to entertaining football, to committed players, and to not giving up.
In an unprecedented move, there was an entire board shake up. Chairman Lee Charnley and Chief Scout Graham Carr were joined by McClaren and club legend Bobby Moncur, ensuring that every senior member of management at the club was kept up to date and involved in discussions.
"Newcastle moved quickly in the summer transfer window"
Newcastle moved quickly in the summer transfer window to secure the services of Gini Wijnaldum [£14.5m], Aleksandar Mitrovic [£13m], Chancel Mbemba [£8m], and Florian Thauvin [£12m (with Remy Cabella going the other way, much to amusement of French football journalists)]. They also secured Ivan Toney [£300k] from Northampton Town as 'one for the future'. Newcastle was the sixth highest spending team in world football this summer. Only Manchester City, PSG, Manchester United, AC Milan, and Real Madrid had a greater net spend.
McClaren instilled some attitudinal changes to try and improve the professionalism of the club. Players now wear suits to matches to treat the situation as if going to a conventional job, although Thauvin and Mbemba have been maligned recently for wearing Tuxedos. After every game, regardless of the result, the players will walk over to the fans and applaud them for their support during the game. The communication between club and fan has even been addressed with regular emails from members of the board and coaching staff being sent to members and a stronger push for social media content, especially during the build up to kick off.
With such wholesale changes to the club in its governance, running, philosophy, and additional playing staff you would expect Newcastle to avoid a similar fate to last season's final day survival, but that simply hasn't been the case.
"Newcastle have managed only two draws and lost four from their opening six games"
This season, Newcastle have managed only two draws and lost four from their opening six games and it looks like the same old problems are still present. Jack Colback and Vernon Anita don't seem to work well together in the 4-2-3-1 we seem to still be playing, with neither able to adequately link up defence and attack. Mbemba and Coloccini are struggling with the pace of the league, Janmaat has given up defending and looks like our most promising goal outlet, and Haidara looks a completely different player to last season – a shadow of his former self.
Thauvin has struggled to find any form so far. He may still be getting used to the league but there were worrying signs when French journos baulked at the £12m fee paid to Marseille and then even more so when Cabella went the other way as part of the deal. He looked promising against Manchester United and excellent against Northampton but has struggled since with any consistency.
Both Sissoko and Cisse both look like they absolutely don't want to be at the club, missing easy chances and looking defeated from the get go. Cisse, during his first half season with the club, always played with a smile on his face but now has a permanent grimace.
New signing Gini Wijnaldum has blown hot and cold so far, and Siem de Jong looks short of match fitness after spending the majority of last season in the sidelines through injury.
"[Mitrovic] looks like the physical plan B we've lacked since selling Andy Carroll to Liverpool in 2011."
Finally, Aleksandar Mitrovic has spent more time suspended than he has playing for the club after receiving a straight red for violent conduct after tangling with Arsenal's Francis Coquelin. He looks like the physical plan B we've lacked since selling Andy Carroll to Liverpool in 2011. He just needs to pick his battles and to learn that the best form of retaliation is to score goals.
Newcastle's struggle this season was not entirely unexpected with a very tough run of opening games including trips to Manchester United and Arsenal but fans are disappointed at not taking anything from the game with newly promoted Watford and being dumped out of the League Cup so early by Sheffield Wednesday.
Some fans are already calling for McClaren's head but I think he deserves more time in order to fully implement his changes. Yes, Newcastle are still struggling to find their footballing identity but we are still very much a work in progress. The fans are calling for more attacking football yet McClaren historically feels more comfortable with a slightly more pragmatic approach and pleasing both parties is going to be a tricky, but workable compromise.
So what can NUFC do to turn their fortune around?
Ditch the 4-2-3-1 and 4-1-4-1 formations
They aren't working, we don't have players with the guile needed in the centre of the pitch to play them, and the players don't know what they are meant to be doing. We're set to play on the counter and look absolutely bereft of any ideas during prolonged spells of possession so we should play to our strengths. Although unfashionable, I would love to see a return to a 4-4-2 with Wijnaldum and Anita in the middle of the park and utilizing the pace of our wingers such as Aarons, Obertan, and Thauvin to exploit sides down the flank. Mitrovic and Perez I feel could work very well together upfront in a classic big man, little man mould. This could easily switch to a 4-5-1 when not in possession but breaking with pace on the counter should be our signature style.
Get more crosses in from the flanks
All of our crosses are coming in from deep. With an out and out, brutish centre forward like Mitrovic we need to be whipping crosses in from the sides and aiming for the big Serbian international. Best case scenario, we score goals. Worst case scenario, we create a bit of havoc and pressure in the final third.
Invest wisely in January
We're still short on striking options. We need probably one more winger, a back up right back, a first choice left back, and a midfield enforcer in the style of Tiote during his first two seasons with us. I can see us needing another £50m net spend at this rate to keep us competitive. A lack of investment at the right time has seen us fall from grace twice in recent times – once in 96-97 and once in 12-13 where we failed to build on 2nd and 5th place finishes respectively.
Find a natural leader
No matter how much preparation and training you do in the week building up to a match, it all boils down to what happens on that pitch during 90 minutes. Throughout 2015, whenever Newcastle have conceded a goal, the players' heads drop too easily and there is no-one on the pitch trying to raise morale, gee the players up, or trying to form any sort of fighting spirit in the team. We've bought a lot of former captains from overseas sides but I'm yet to see any leadership on match days, a view shared by former Magpies midfielder Jermaine Jenas.
Reconsider the transfer policy
The recent transfer policy at the club has consisted of scouring Europe for the brightest young stars we could convince to join us and hoping they become good enough to sell on for a high profit in a year or two. I'm not deluded, and fully appreciate that for many players Newcastle United is a stepping stone to playing in the Europa or Champions league. However, this model only works if the team is playing well and at the moment you could argue that there is not enough experience in the side to work alongside the young talent. I think some investment in older heads who don't have the resale value but can offer experience to younger players on and off the pitch can only be a positive step and preferably players with Premier League experience would be helpful as we currently have lots of players with little experience of the English game. Experienced Premier League players can come in and hit the ground running as there is no time needed to adapt to the game as they are already used to the speed and physicality of the English brand of football.
"I don't think Newcastle are destined for another relegation."
I don't think Newcastle are destined for another relegation. The January window offers a lot of hope for a team who have already shown they are willing to invest. On paper, I think that Newcastle side is more than capable of a top 10 finish but the job of the coach is to both manage the expectations of the fans and get a group of newly assembled, young footballers playing on the same wavelength with conviction and some degree of emergency.