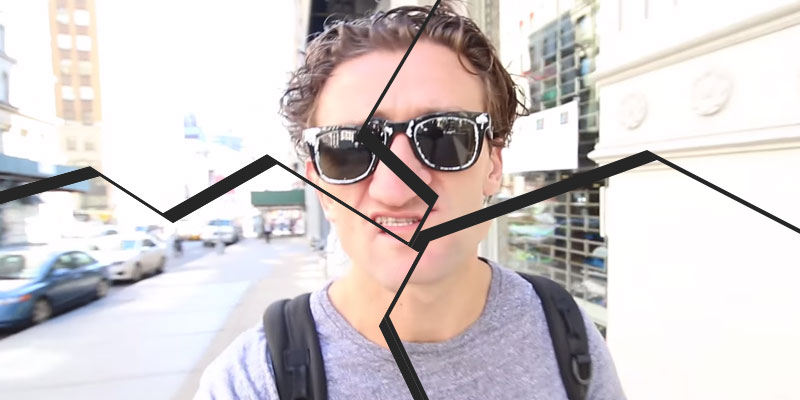 In Monday's blog I spotlighted the work of Casey Neistat and why he's such an influential figure in the world of YouTube. In this blog, I'm going to break down some of his techniques and show why he's such a successful filmmaker.
Casey doesn't play by the rules
The rule of thirds, the aesthetically pleasing way of displaying visual information, does not figure in Casey's repertoire. Instead, he tends to centre frame the action or important pieces. This happens when he talks to the camera (addressing the viewers at home) and when he does his running montages/tracked movement i.e. skateboard shots. This gives his videos a direct communicative link to the audience, as if he is speaking to each viewer individually as opposed to a group or intended audience.
Casey uses whatever camera he has around him
Yeah, he has a 5d mkII for his more serious work, but for everyday use, especially vlogging, he tends to use point and shoot cameras with flip screens. His iPhone, he recommends, is best for timelapse photography and he has a Canon 70d on a gorilla tripod that he hauls around for his 'daily driver'.
The story is the most important thing
Casey gets tired when people constantly quiz him on what gear he uses. To him, that's the most boring part of filmmaking and instead he prefers to talk about the story, the location, or the people in the films he makes, or intends on making.
"The execution is all that matters" – Casey Neistat
Casey does it himself
Rather than buy something, Casey prefers to build it with his own two hands. He professes to preferring analogue devices, as opposed the digital, evidenced in the speaker system he created in his crazy cool New York DIY office. His overhead film rig was created out of wood and is a Casey original too.
He takes inspiration from other filmmakers
Casey takes influence from filmmakers like Stanley Kubrick, Wes Anderson, and Quentin Tarantino. His Kubrick influence comes from his single point perspective – think long corridors where the end of the corridor is in the centre of the frame. Casey uses the 'from above' top down bird's eye shot when he is doing DIY hand-drawn explanations or diagrams and centre-framed shots (as outlined above) – both staples in Wes Anderson's works. Casey sometimes uses the Tarantino low-angle 'trunk shot', especially when running.
Who do you take your inspiration from? Let me know in the comments below.