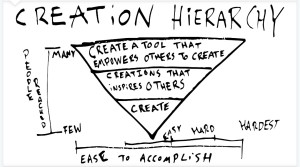 I've been addicted to Casey Neistat's YouTube vlogs over the last 100+  days. They give a really fascinating insight into his creative process and there are a lot of things filmmakers can take from watching the way he works and the way he sees the world around him (note: it's ALL about the story you are trying to tell, not using the most up to date gear!).
In his 100th Vlog, Casey explains his new company, Beme, without giving too many details away for many boring legal reasons. One of the ways he articulates what his app does is via the creation hierarchy he created along with a professor at MIT. Casey starts by talking about the power of creation; what can happen when you make things. The power of creativity falls into three tiers:
Create – make something (anything). Most people fall short just before this process. They come up with the idea and then for one reason or another don't go through with it. This part is the easiest to do but reaches the fewest people; however, it is the most important because it's the first step.
Creating something that motivates others to create. This is a really powerful step where your work inspires others to get up and make something themselves, becoming a catalyst for creation. Casey talks about the idea that "one movie that can move an entire generation".
Create a tool that empowers other people to create. This is the hardest thing to achieve but has the most reach and the biggest impact. Think how Vine forced people to learn to tell creative and interesting stories in just six seconds. Casey uses the example of the first iteration of iMovie and how that enabled him to edit video for the first time and proved the starting point for his life trajectory.
I thought this was a really nice way of visualising creation and reach and also a big kick up the rear to do the first part of the process: Just get out there and create something!
I've had loads of ideas I've wanted to commit to film but it hasn't been until lately when I've actually had the time and help available to go ahead with something. Whatever you create doesn't have to be particularly innovative; Hell, it doesn't have to be any good, you just need to make something, have fun and learn from it. And that's what I'm looking forward to doing again very soon.